Source: weddingbazaar.com
While the events of the last two years have encouraged creativity in planning weddings, this Tamil Nadu couple seems to have thought light-years ahead! They recently held a completely virtual wedding, in the recently introduced metaverse. An online augmented reality, where avatars can engage in day-to-day activities without leaving the comfort of their own homes. And being die-hard Harry Potter fans; Dinesh SP and Janaganandhini Ramasamy chose the metaverse platform to host their virtual Harry Potter-themed wedding!
India's First Metaverse Harry Potter-Themed Wedding
Dinesh SP, project manager at IIT Madras announced on his Twitter profile that he and his fiance would be celebrating their wedding reception in the metaverse introduced by Mark Zuckerberg, founder & CEO of Facebook and the larger Meta company. The couple had a traditional ceremony in their village, Sivalingapuram, in Tamil Nadu but chose to host the reception virtually, so friends and family throughout the world could attend! He has created virtual avatars of both of them, resembling their features to make the event as realistic as they can!
And, their digital invite celebrates not only their love for each other but the magical world of Harry Potter as well!
Exploring the possibilities of the metaverse, Dinesh created a virtual avatar that resembled his late father-in-law thereby allowing his 'presence' to be at their celebration. What a magical moment to be alive, for the bride-to-be to have her father's presence with her for her big day!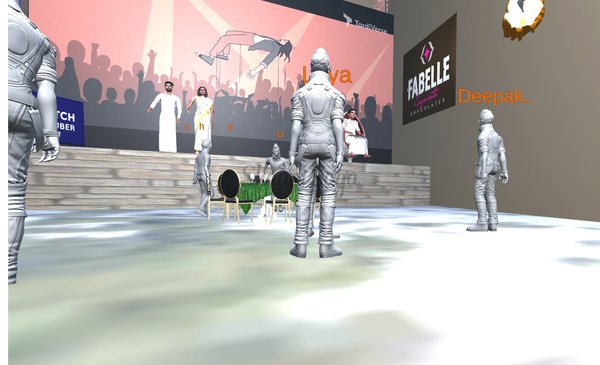 Following the announcement, GuardianLink.io, an NFT Ecosystem Technology Framework launched the first metaverse wedding NFT collection on the popular NFT website, Beyondlife Club! The wedding invitation along with the bride and groom's avatars amongst other memorabilia is up for grabs on the NFT platform.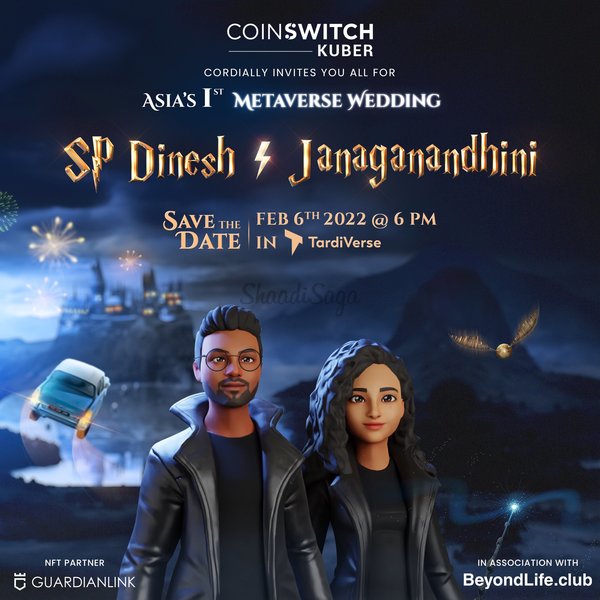 The Invite
Source: Dinesh Kshatriyan
Guests also shared videos of the experience, highlighting the many features available for use in the metaverse! A total of 2000 guests were invited to the metaverse wedding celebrations, cleverly circumnavigating the current restrictions in the state of Tamil Nadu that allow only up to 100 guests for weddings.
Final Words
We wish the magic-loving couple a very happy married life and congratulate them for organizing the very first Indian metaverse wedding! We see this as a sign for the virtual to truly meet reality.